Commercial Line Marking Services - Manchester
Experienced contractors in line marking for schools and football clubs.
EXPERIENCED CONTRACTORS IN MANCHESTER FOR LINE PAINTING IN SCHOOLS & MORE

School field line painting, football pitch markings, rugby pitch markings, cricket pitch marketings & athletic track markings.
We are a highly-qualified team providing ground maintenance and professional line marking services for sports fields, pitches and tracks on a number of different surfaces. Our sports field marking equipment and sports line paint can be used on any sports surface including grass, Tarmac, or even synthetic 3G surfaces such as artificial grass.
PROFESSIONAL LINE MARKING SERVICES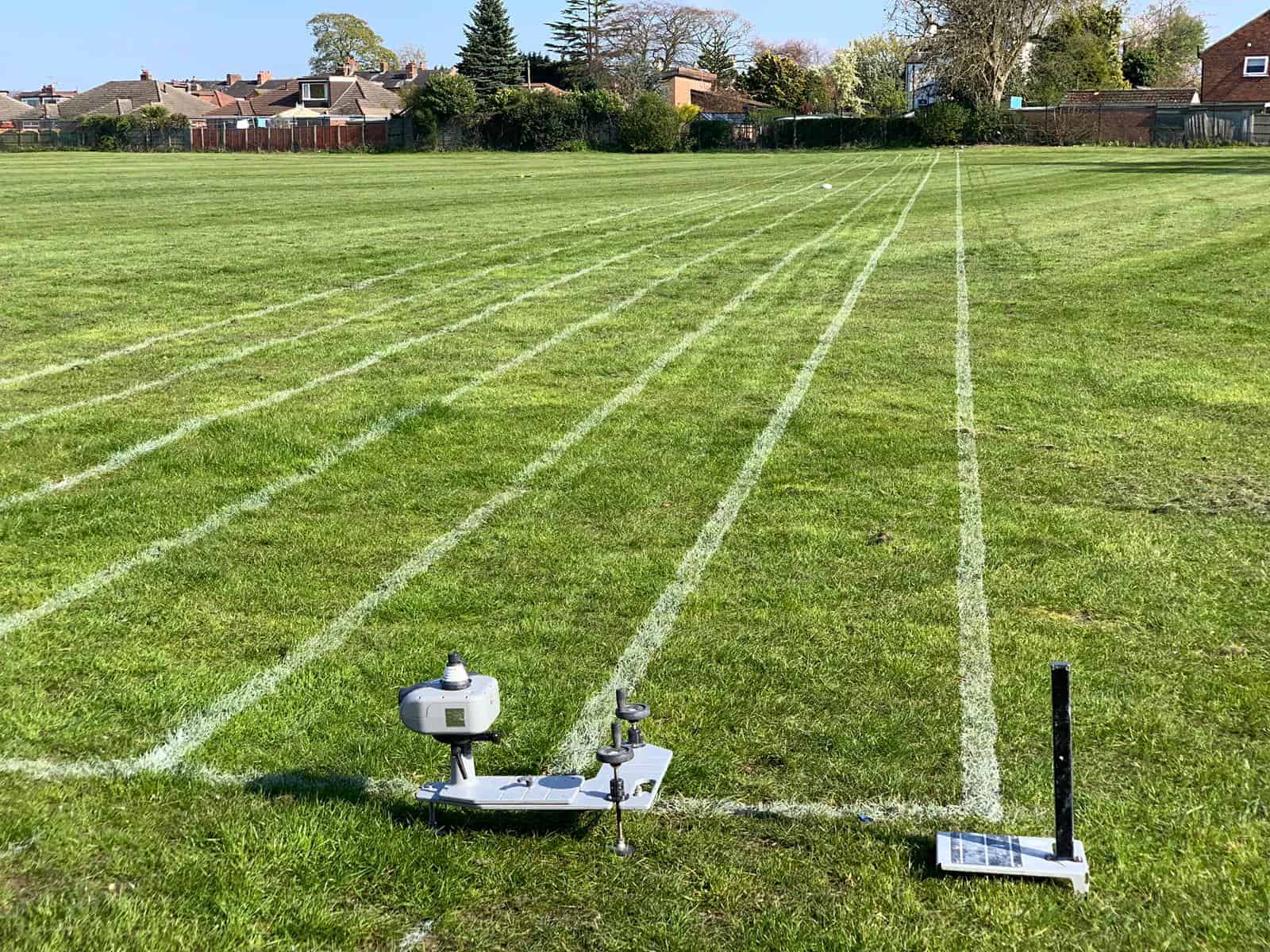 We use a highly resistant line marking paint that takes much longer to deteriorate than normal paints, and is provided by Fleet Line Markers – a sought after brand that is used as line marking paint for football pitches such as Wembley Stadium, Old Trafford and Manchester City Football Club.
To ensure accuracy when applying rugby pitch markings or athletics track markings for example, we use the Beam Rider – the only laser guided marking system in the world, that allows us to draft out mark sports fixtures with absolute accuracy and precision. The system is very easy to use and allows one person to carry out a field marking on their own instead of requiring 2 people and traditional 'string' methods.
EXPERIENCED CONTRACTORS FOR LINE MARKING AT SCHOOLS, FOOTBALL CLUBS AND MORE IN MANCHESTER
Football Pitch Markings For Schools, Sports Clubs & More
We have acted as a football pitch line marker service for many years, and always come prepared to complete the task with minimal disruption. We use our own football pitch line marking machine and laser system to ensure total accuracy when marking out a football pitch – regardless of size.
Our soccer field marking system is designed to stand up to extreme weathering, sunlight, water and footfall – helping you to save money over the course of the football season.
We are all CRB checked and therefore able to work carry out line marking paint for football pitches where there may be children present, and we always leave the work site tidy and in exceptional condition.
Rugby Pitch Markings In Manchester - Rugby Union Pitch Markings & Rugby League Pitch Markings
We have provided numerous schools and sports clubs with rugby field markings in preparation for their sports seasons, using our sports field marking equipment to produce flawless rugby pitches that are capable of withstanding the harsh treatment of physical sports and the unpredictable British weather.
We use our highly advanced laser guided marking system for our rugby pitch line marking, offering high-quality surfaces for games of either rugby union or rugby league.
Cricket Pitch Markings In Manchester Including Cricket Wicket Markings
Not only are Sunnybank Forestry capable of preparing and maintaining your cricket pitch for use during the sports season, we can also use our sports field marking equipment to provide cricket pitch markings for schools, colleges, cricket clubs and many more.
Our cricket marking process employs the use of the Beam Rider system for accurate cricket pitch lines, ensuring that any judgement call can be made during play without issue.
Our extensive collection of qualifications includes all relevant NPTC certifications for machine operation, and we are used to working in environments where there are children present.
Athletics Track Markings, School Field Line Painting For Schools & Colleges In Manchester - Running Track Markings, Long Jump Marking & More To IAAF Guidelines
Due to the large number of track and field sports involved in athletics, preparing a sports pitch with accurate track and field marking paint can be an extremely technical task.
Luckily, Sunnybank Forestry has been providing line painting services for many venues and clubs since we were first formed. We also have an extensive history providing schools and colleges with school field line marking and painting services.
We use our advanced sports field marking equipment to map out field markings for a range of athletic pursuits, including but not limited to: discus sector marking; pole vault runway markings; triple jump line markings; 4x100m relay track markings; and running track markings.
Pitch Marking For Field Hockey & Other Field-Based Sports In Manchester
No matter the sport, Sunnybank Forestry are renowned for our willingness to go above and beyond for our clients. So, whether you need field hockey pitch markings, tennis court markings or even lacrosse pitch markings – we're here to help you achieve it.
WHY YOU CAN TRUST ELM HOUSE TREE SERVICES FOR COMMERCIAL LINE MARKING
HEALTH & SAFETY
We have a good health and safety policy that contains method statements, risk assessments and COSHH assessments for all our work.
NPTC QUALIFIED
We have all the relevant training and have a relevant NPTC in machinery operation.
REGULARLY ASSESSED
We employ a health and safety consultant from P&M Safety Consultants who visits us quarterly to manage the health and safety part of the business so that we are legally all above board.
CRB CHECKED
If we work on a site where school field line painting is required or where children may be present, all of our team are CRB checked
Our Work Ethic
– We are always on time and turn up with the right sports field marking equipment.
– We are friendly and highly professional.
– We are efficient to get the job done in your timeframe.
– We only deliver high quality work and we are tidy.
– All waste is recycled.
Contact Us For A Quick Response!