Commercial Grass Cutting Services - Manchester
We provide commercial grass cutting services from schools to large retail parks.
COMMERCIAL GRASS CUTTING IN MANCHESTER/ LAWN MOWING CONTRACTORS IN MANCHESTER
We offer commercial grass cutting services level ranging from school fields to large industrial parks. We have been providing commercial grass cutting in Manchester for over 15 years and are trustworthy, competent and highly professional. If your job has children in the vicinity we are also CRB / DBS checked.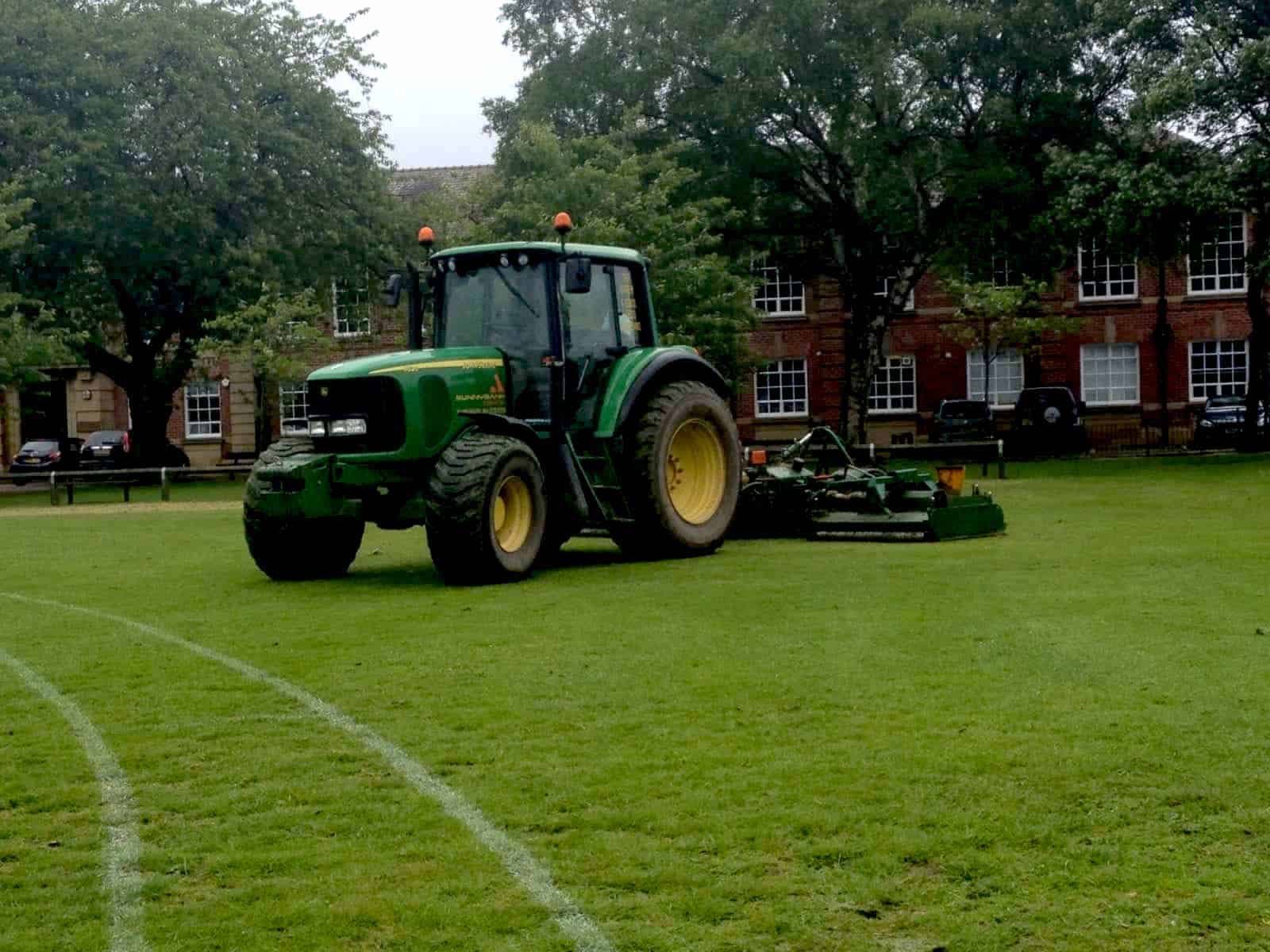 COMMERCIAL GRASS CUTTING IN MANCHESTER – THE DETAIL
We cut small formal areas with our pedestrian Hayter rear roller mowers which not only leave a strip, but collect the grass that is then removed from site.
For larger amenity areas that are uneconomical to cut with a pedestrian mower, we utilise our John Deere X748. This unit uses a mulching deck which holds the grass under the deck longer in order to cut and disperse the grass without it being visible, especially when using on a weekly cut. This unit operates with a high tip collector which enables us to collect the clippings, load them on to a vehicle and remove them from site.
WE ALSO CATER FOR SPORTS FIELD COMMERCIAL GRASS CUTTING IN MANCHESTER
No matter the size of field you need grass cutting in Manchester for, we have machines large enough to cut the grass in an efficient manner.  We leave all sports fields looking tidy and professional. We are specialist field cutting contractors and have vast knowledge and experience in this field. Contact us if you are needing grounds maintenance, vegetation management, or landscaping.
CHOOSE ELM HOUSE FOR TRUSTWORTHY COMMERCIAL GRASS CUTTING IN MANCHESTER
HEALTH & SAFETY
We have all the paperwork in place for a fully comprehensive health and safety policy.
NPTC QUALIFIED
We are fully trained and hold all relevant NPTC's in machinery operation.
REGULARLY ASSESSED
We take health and safety seriously and we employ a health and safety consultant from P&M Safety Consultants to make sure we are legal.
CRB CHECKED
We are CRB checked incase we have to work around children
Our Work Ethic For Commercial Grass Cutting In Manchester

– We are timely and always have the right equipment for the job
– We pride ourselves in being friendly and professional
– We are highly efficient, we get in and out whilst doing the job properly
– Our work is of a high quality and we leave the site in a tidy state
– All waste is recycled
What Our Customers Say About Our Commercial Grass Cutting In Manchester
Contact Us For A Quick Response!